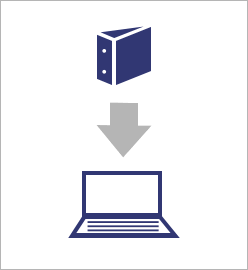 Downloaded binders are ideal to use when you have uploaded files in your binder and you want to present the binder offline or just keep an archived copy of your binder.
What to expect from your downloaded binder:
Your offline binder will look the same as your online binder
All of the uploaded documents are included
All text added to your binder is available
Web site links in the binder will only display with an internet connection
The Tab Search box is available
Table of Contents in the 1st or 2nd tab position works
Table of Contents inside the Options menu is not available
The Options menu in the offline binder is not available
The binder editor is not available offline; you will not be able to edit the downloaded version of your binder
Note: The download binder option is only available with a Pro or Team level subscription.
How to extract and play the downloaded copy of your binder:
Your binder will be downloaded as a Zip file. After downloading the Zip file, it's usually best to create a new folder, move the Zip file to that folder and then Unzip the file. Then to launch the binder, click on the "Play..." html file located in that folder.