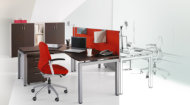 MOS Office Furniture, Inc., marks the last hurdle for going totally paperless
MOS Office Furniture, Inc., together with parent company Martin Office Supplies, Inc., has provided office supplies and furniture to customers from large government agencies to consumers since the 1980s. The company operates a storefront in Granbury, Texas, but its main business for the last fifteen years has been large furniture projects for large institutions, including schools and universities. Cody Martin, co-founder of MOS Office Furniture, was introduced to the furniture business by his father and, along with his business partner Russ Wood, found success for his own firm with a visionary early adoption of internet marketing. As a longtime vendor of office supplies and furniture to schools and government agencies, MOS Office Furniture understood the needs of traditional institutions to present communication materials in easy to manage formats, and adopt digital communications that mirror paper communications.
In keeping with the business' family story, MOS Office Furniture was introduced to LiveBinders by Wood's daughter, a school librarian. MOS found that LiveBinders (Livebinders.com), which mirrors the functionality of a ring binder and is widely used in education, is a great fit for its catalog distribution and communication needs for projects with government and education institutions.
How a Traditional Office Supplier Goes Digital
MOS's long history as an office supply distributor, in conjunction with its own shift to a truly paperless office, put the company in an uncommon position of needing to identify the most effective ways hardcopy-reliant organizations can make the shift to all-digital content. Like most businesses, MOS used to handle most digital communication over email, but quickly ran into the medium's many limitations. Sending single versions of simple PDF documents is easy over email, but MOS's catalogs that include large PDF documents and a need for strict version control for drawing and product information updates outpaced email's functionality and created serious version control headaches.
Cloud solutions like DropBox and Google Docs were useful for pointing customers to large files, but MOS found that while the use of these services made file access easier, they were not able to address the underlying challenge of organization. A sea of Google Docs and DropBox links added a new layer of complexity on top of email's own limitations. MOS was able to see that email and cloud services were not able to fully replace hard copy materials yet, particularly for the government and education organizations that comprised the bulk of the company's customer base.
All of these issues were compounded by the size of projects MOS worked with. While more traditional digital content platforms might meet the needs of smaller projects consisting of a few furniture pieces, the aforementioned issues could become quite cumbersome as MOS met the furnishing needs of large facilities and organizations.
LiveBinders Marries Organization and Cloud Storage
When Russ Wood's daughter, a school librarian, introduced them to LiveBinders–a platform increasingly familiar to educators as a way to organize and easily share course materials–they instantly recognized the benefits it posed for their business.
"The word was that LiveBinders is used a lot in education," says Cody Martin. "Our company does a lot of business with education, so we paid attention. It occurred to me that we could use this in our furniture business; it really is a digital equivalent of a ring binder."
Martin found that the same features that made the binder-based organizational structure of LiveBinders effective for teachers would also work for conveying product information to his customers. "Some of the folks we work with are tech adept and some are not," he says. "They can use email and spreadsheets, but are they really adept with cloud-based applications? Probably not."
According to Martin, LiveBinders catalogs offered a level of easy functionality that allows customers at all technical levels to effortlessly navigate their content. Most customers, he says, don't have to think about navigating the platform, they just dive into it–it's that intuitive.
LiveBinders allowed MOS to cut through the version control challenges of email without requiring customers to navigate a tangle of cloud storage locations like Google Docs and Dropbox links. LiveBinders gave MOS the ability to present a diversity of materials, like text, drawings, blueprints, links, and spreadsheets in a single easy-to-access format which could be consistently kept up to date. "If a drawing changes you can go in and delete the old drawing and put the new one in there. If you use email you've got six versions of the same thing floating around. With a LiveBinder you can make sure the most fresh iteration is in the binder and you know everyone is looking at the right thing."
A Vision for LiveBinders in Business
MOS's insider's view into the evolving office supplies landscape has led the company to identify an unaddressed niche in business that LiveBinders is poised to fill. "What's happening in the office products industry is that anything that has to do with a piece of paper is now in secular decline," says Martin. "We're seeing the convergence of smart phones, tablets, cheap cloud storage and wireless. If you've got an iPad you've got the equivalent of six thousand ring binders at your fingertips. The problem is that the transitional period will still take years; that's why people should pay attention to LiveBinders. It's how you replace a ring binder."