Other questions? Contact us at support@livebinders.com
Embedding a Binder
You can embed a binder onto your blog page, wiki page or website. To do this from within a binder,
Go into your binder in Edit mode and click on Share in the top bar
Click on Embed
Copy the html code provided in the box labeled Embed a Binder Icon:
Paste this code into the html of your website. If you are using a wiki, there may be a special window for pasting embed codes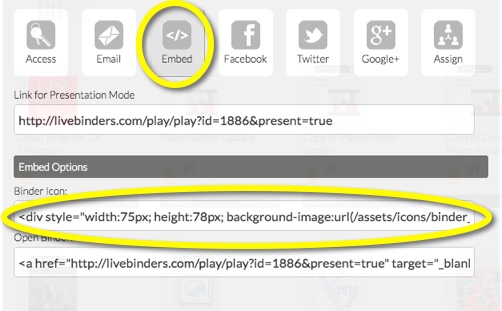 The binder icon will appear like this one on your web page:
You can also embed an open binder in a web page. This may or may not look good depending upon how many tabs and sub tabs are in the binder. Binders with fewer tabs and sub tabs look better in a small window than binders with lots of tabs. Just follow the step above, but copy the code from the box labeled Open Binder: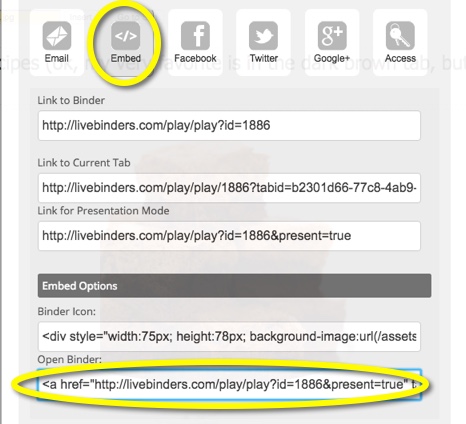 A Binder Icon on Your Desktop
Copy a LiveBinder
You can copy a binder by selecting Copy from the Options menu underneath the binder on the shelf.
If you are inside a binder you can click on the Copy link under the Add icon in the top line of the binder.
Note: the Copy link will not show up if the author of the binder has decided that they don't want their binder copied.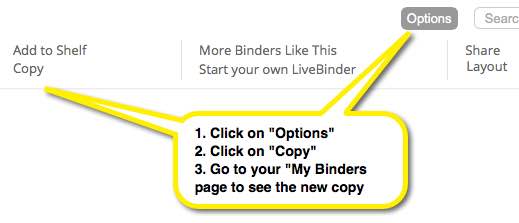 Present a Binder
The present feature lets you show a binder without any of the distractions of the top bar or "useful" information. To do this from within a binder by click on View icon in the upper right corner then Present.

Create a Shelf

In addition to your account shelves, you can also create a shelf to organize your binders with other people's binders. These customized shelves can be private or public.
Here are three ways you can create a customized shelf:
From the My page click on the Start a Blank Shelf icon to the left of your binders.
From the Options menu located below any binder icon on a shelf, click on Add to Shelf to add that binder to a new shelf.
From within a binder on the top line, click on the "+" icon and select Add to Shelf.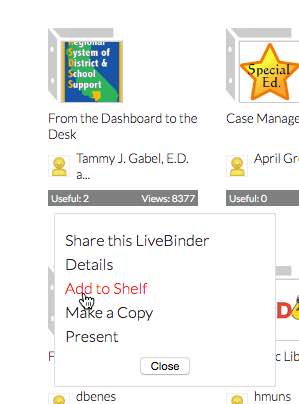 Give your shelf a name, description, and tags. This will help you and other people find your shelves within LiveBinders. If your shelf is public, people can also search for it from Google.
Then determine if you want your shelf to be public or private. If you want to share a private binder, you must create an access key. Like a private binder, only those with the access key will be able to view your private shelf.
Add a Binder to a Shelf
You can add anyone's public or private binder to your private or public custom shelves.
There are two ways to add binders to your shelf:
From the the featured page or another shelf, mouse over the binder to see the Options menu and click on Add to Shelf. You will be given the option to add it to a pre-existing shelf or to add it to a new blank shelf.
From within the binder you are viewing, click on the Add to Shelf link located under the "+" icon in the top bar of the binder.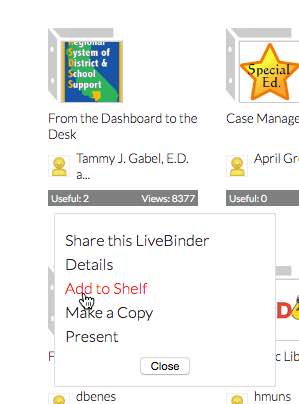 Share a Shelf
On your My page, all of your binders are organized on "shelves." There are currently two kinds of shelves in your account: those that can't be shared and those that can be shared.
Private account shelves can't be shared: "All my binders," "All my private binders," and "Assigned binders."
Your public shelf and any shelf you create are shareable: "All my public binders," and any shelf you create with the "Add to Shelf" link or "Start a blank shelf" link.
Sharing Public Shelves:
Like a binder, a shelf has a URL that you can share.
To share your public shelves, click on the My Public Binders. You will see several options to the left. You will see a URL that can be copied and pasted into an email. You will also see a way to share your shelf on Twitter or Facebook.
To share someone else's public shelf, click on their name from within a binder or on the shelf below the binder icon. Copy and paste the URL provided to the right of the shelf under Shelf Details.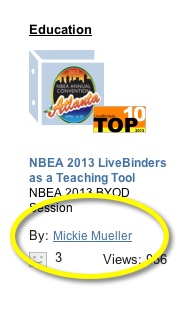 You will see all their binders. You can then tweet, put the link on Facebook, or copy and paste the link into an email:

Sharing Private Custom Shelves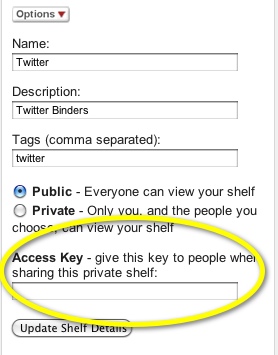 To share your private customized shelves, you will need to create and provide an access key for your shelf. Like your private binders, this will allow anyone with the access key and the link to view your private shelf.
To set your access key for your shelf,
Click on your shelf from your My page
Click on the Options menu
Go to Change Properties and type an access key in the box labeled Access Key
To share your private customized shelf, click on the Share and Embed link from the Options drop down menu located under Shelf Details. Copy the link and email both the link and the access key to the person with whom you would like to share your binder.
Embed a Shelf
You can embed a shelf in most blogs and wikis (except the hosted version of Wordpress.)
First find the shelf you want to embed by clicking on an author name or on one of your shelves. Then click on the Options button in Shelf Details or the Share/Embed icon link.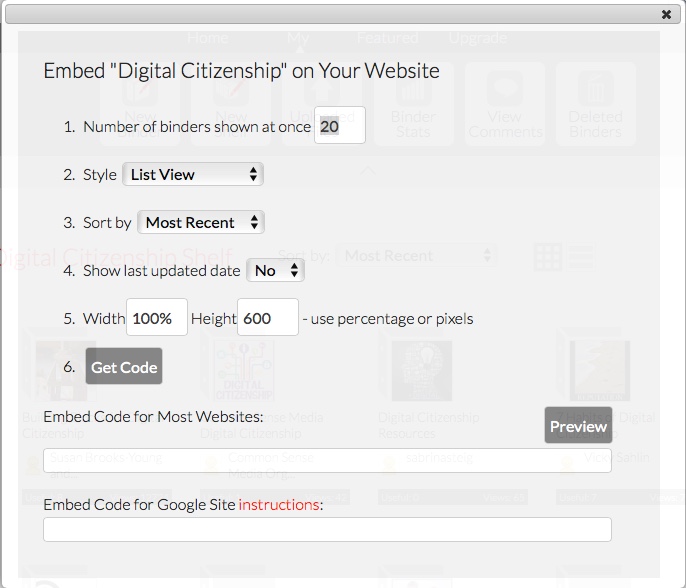 There are three versions of the embed code. Select the embed code that best fits your destination site. For a post you probably want 3 x 3 binders. For a sidebar, you probably want 1 x 3 binders. There is also an optional List View of your binders. Copy and paste the desired embed code into your blog according to your blog or wiki's instructions.
For those interested in customizing the embed code further, please see the this page.
Embed a Shelf in a Google Site
Embedding a shelf in a Google Site page is a little complex. This video will walk you through the details.
Here are step-by-step instructions:
Go to your LiveBinders shelf page
Click on Options on the left side
Click on Share/Embed
Scroll all the way down and copy the link for Google Sites
Go to your Google Site
Go into Edit mode on the page
Click on Insert in the upper left
Select More Gadgets
Search for iFrame in the search gadgets box
Select the iFrame Gadget
Paste the url from your shelf in the URL box
Adjust the width and height as you see fit
Click on OK
Change the Name/Description of a Shelf
To change the name of a shelf, just click on the Options button under Shelf Details and then click on Change Properties to bring up a menu to change your shelf properties.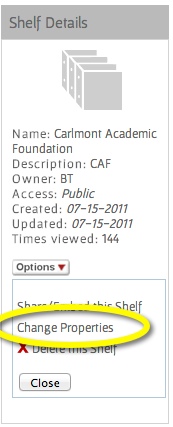 Delete a Shelf
To delete a shelf, just click on the Options button under Shelf Details and then click on Delete this Shelf.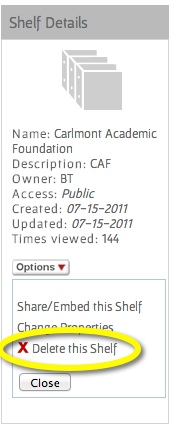 You need to be logged into LiveBinders to add comments.
Once you are logged into LiveBinders click on the "t" in the top line of the binder
Click on the comment link
Type your comment and click on "Submit"

Print Text
Word Doc or PDF file: If the text document is a MS Word document or PDF file, you can use the MS Word or PDF application to print the document - those documents in their application will automatically appear either in your binder or as downloads on your computer. Look for the "print" icon from the MS Word or from the PDF menu. This is the easiest way to print text and is another reason to upload files into the binder.


Text within LiveBinders:

Chrome and IE: Right click on the text and select Print from the drop-down menu.
Safari: Right click on the text and select Print Frame from the drop-down menu.
Firefox: Right click on the text and select This Frame then Print Frame from the drop-down menu.
Auto-save
Auto-save is designed to automatically save your binder. If auto-save is taking too long, or seems to be saving too often, there is one of two possible problems:
Your connection is slow or spotty
Your binder is too large
It isn't the number of tabs that can make a binder too large, but more often something in the text frames causing the problem. If you copy/paste an image into a text frame, this will cause the binder to be too large, or if you copy/paste text from Microsoft Word.
If you are seeing a problem with slow auto-saves, please contact support immediately and provide a link to your binder.
Delete a Binder
To delete a binder:
Go to your My page
Mouse over the binder you wish to delete and click on Options
Click on Delete from Account
Your binder will be deleted, but will be saved for 30 days in case you want to undelete it.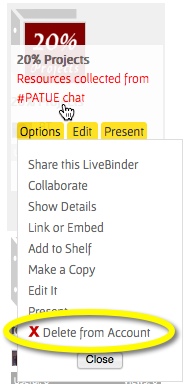 Screenshot of Delete from the Options Menu
Undelete a Binder

Your deleted binders are saved for 30 days and are accessible from the deleted binders page.
To access your deleted binders:
Go to your My page
Click on the Deleted Binders link on your dashboard. That will take you to a page that has all your deleted binders for the past 30 days
To undelete a binder, just click on the Undelete link next to the desired binder on the right side
Your binder will appear back on your My shelf. Please note that the access will be "Private - Copy Disabled". You may need to make your binder public again, if that is what you wanted.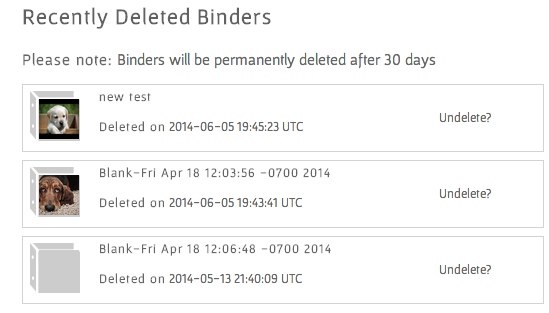 Delete Files
Deleting uploaded files in a binder does not delete them from your account.
To delete them from your account, you need to go to the file manager by hovering over your username and clicking on My Uploaded Files
You will see all your files, and their sizes, listed under Manage Uploaded Files. Put a checkbox next to any file that you wish to delete
Click on the Delete link above the files.
Those files will be removed and you will regain the space that they were using in your account.