Google Hangout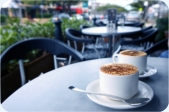 Do you have questions about LiveBinders or just need a little "live" help? We are happy to do a Google hangout with you. You can ask questions, learn LiveBinders tips and tricks, provide feature requests, or just to meet us and tell us how you are using LiveBinders.
We are also happy to present on your in-service days via Google Hangout, just let us know on the form.
Please sign up here for a day/time that works for you.
Please note that you will need the Hangout Plugin from Google in order to join. Please download the plugin here.
Knowledge Sharing Webinars
Knowledge Sharing Place Webinars are a collaboration between LiveBinders, Dean Mantz, Classroom 2.0 LIVE, Classroom 2.0 and Blackboard. We feature inspiring LiveBinder authors who share projects and insights from their classroom. Here is our binders past webinars with video archives and valuable resources:

Classroom 2.0 LIVE
Weekly webinars and professional development site.
We are so happy to collaborate with Peggy, Kim and Lorna at Classroom 2.0 Live! We host our Knowledge Sharing webinars at their Elluminate Blackboard site. They also host many regular informative sessions. Here is a link to their next event.
Below are the resources they've gathered from all of their podcasts - organized in monthly binders on their public LiveBinder shelf.
SimpleK12
SimpleK12 has offered some wonderful webinars introducing LiveBinders to many new educators. They also offer free wbiinars on other great web 2.0 tools for teachers. Here is their shelf: