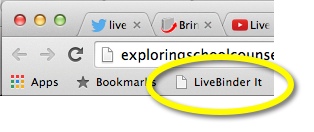 The "LiveBinder It" button makes it easy to add to your binders as you browse the web. After you have installed it, just click on "LiveBinder It" whenever you see a web page or video that you want to add to a binder.
How to add "LiveBinder It" to your Browser Toolbar
Check that your 'Favorites' toolbar is visible - in your browser go to 'View > Show favorites bar'


Then simply drag this link: LiveBinder It up to your toolbar. That's it!

"LiveBinder It" in your Safari toolbar
Note: You may need to turn off the pop-up blocker in your browser
Begin Using LiveBinder It
Login to your account
Go to the Website you want to add to your LiveBinder
Click on the "LiveBinder It" link and select a new or existing binder
Click on the "Add to Binder" button
Wait for the "It's been added" message
That's all!